The eye care staff at Family Vision Clinic of Farmington focuses on giving every person the best and most thorough treatment possible. First, our optometrist helps evaluate your eyes and vision care needs. Then, our skilled staff helps you find the best frames for your prescription glasses. We employ the latest in eyewear design and prescription lens technology to provide you with the most precise and comfortable vision possible.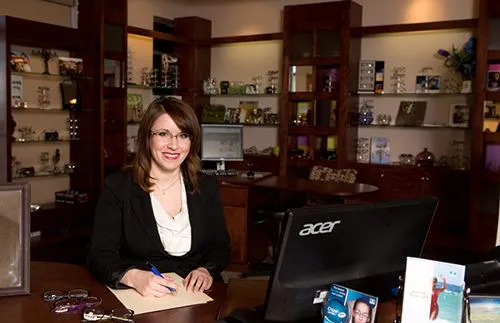 Appointment with Our Optometrist
Scheduling an appointment with our optometrist can help determine if you need to wear corrective lenses. In addition, the eye doctor can determine what prescription you need to improve your vision. Once you have completed your appointment, our eye care staff will help you find the best eyewear for your needs.
Get Fitted for Frames
After your eye exam with our optometrist, our experienced eye care team can help get you fitted for frames and other eye care accessories. We offer many eyewear options, including:
Glasses
Sunglasses - prescription and non-prescription
Glasses for children and infants
Safety glasses
We welcome all of our patients to bring outside prescriptions to our office for new eyewear. So please bring in your prescription, and our dedicated staff can help get you fitted for a pair of glasses.
How to Pick Eyewear
When selecting the eyewear, consider several things, including the shape of your face, your skin tone, and which style you prefer. Then, try on as many eyeglasses as you need to until you find the perfect pair for your face, vision needs, and comfort.
Shape of Your Face
Identifying the shape of your face is the best place to start when selecting frames. The shape of your face can determine the shape and size of eyeglasses you get. For every face shape, there is complimentary eyewear; for example, oval-face shapes look good in most frame styles, while a heart-shaped face looks better in the round, thicker frames.
Skin Tone
In addition to your face's shape, select frames in a color that compliments your skin tone. For example, those with a cool-colored skin tone look best in black, gray, and blue frames. Additionally, those with a warmer skin tone look amazing in tan, pink, and red frames.
Learn More About Our Eyewear Options
When getting new eyeglasses, call Family Vision Clinic in Farmington to schedule an appointment. See how we can offer you everything you need for your eye care, including vision exams and eyewear options. Call us at (651) 463-2020 for more information or to schedule an appointment with our eye doctor.