Our Doctor of Optometry in Farmington Wants to Help You to See Clearly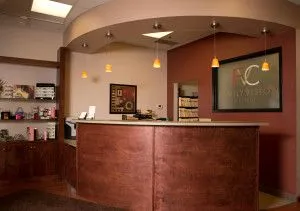 Your eyes are important parts of the body that needs professional eye care to help them to stay healthy. As part of the Farmington community, Dr. Pamela Rupnow and her optometry team at Family Vision Clinic will care for your eyes with the extra dedication you deserve.
We are the one-stop-shop for your eye care needs. From regular eye exams to the latest technology in eye disease detection and treatment, we have all your eye care needs covered under one roof. That's right, we don't just treat eyesight problems, we can also diagnose and offer quality care for eye allergies, infections, cataracts, diabetic eye disease, and macular degeneration, to name just a few. Let Dr. Rupnow utilize over 25 years of experience to find the right solution for you and your family.
Our pediatric optometrist specializes in making your kids experience an enjoyable one.
If you need eyewear, our optical gallery offers fashionable frames and sunglasses for men, women, and children. Several of the brands we carry include Calvin Klein, Nike Vision, Bon Vivant, Banana Republic, and many more. Take a look at our handpicked selections today.
What Can We Do for You, Farmington?
Our clinic offers a comprehensive range of services, all dedicated to helping every member of the family. Young or old, we will offer you the same level of service and care. Our services include:
Comprehensive eye and vision exams
Pediatric and senior eye care
Corrective lenses
Eye disease diagnosis and treatment
Trust Your Eyesight to Family Vision Clinic
Dr. Rupnow and her optometry team have been caring for the Farmington community since 2007. We are different from other optometry clinics as we offer our clients the care they deserve. Our consultations are thorough and comprehensive, and we spend time to ensure you get the right diagnosis, the correct glasses or contacts, and your issues dealt with professionally.
We listen to your needs and help find the best possible solution for you and your family. We know everyone is different, and whatever age you are, we will find a solution for you. Whether it is senior or pediatric optometry care, you will get the attention you deserve.
Make regular eye checks part of your health care routine. Come and experience why we are different from the other optometrists. Call Family Vision Clinic at (651) 463-2020 to book an appointment.