If you seek a family optometrist in Farmington, MN, please consider Family Vision Center. Our eye doctor can help you with your eye care needs. You can schedule an appointment for eye exams and other eyecare issues. In addition, we offer many eyecare services for Farmington and surrounding areas.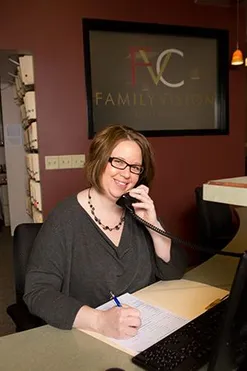 What Services are Available?
Of course, we offer eye exams and various glasses that suit your style, but we also provide post-operative eye care. You must take good care of your eyes after surgery, and we are here to help. We provide shaded glass and eye drops after eye surgery. We offer our patient's computer vision treatment and computer glasses for those who have to spend time on the computer. We can help you with your contact lens exam and your contact lenses. Infant and pediatric eyecare is another quality service we have for our patients. Early eye exams are essential to a child and ensure that their optimal vision is the best. You can trust our Farmington location to care for your eye care needs.
What Is Considered Emergency Eye Care?
Eye injuries or eye pain are considered an eye emergency. It's essential to assess the eye injury to provide treatment. If there is eye pain, it's also necessary to find the cause and develop a treatment plan. If you are experiencing floating spots or seeing flashing lights, this can also be a reason to seek emergency eye care. Red eyes, as well as pink eye, also need to have an optometrist's attention promptly. If you have a foreign object in your eye, don't delay going to the optometrist. Even though our office may be closed, we will still have someone to take care of your eye care needs at our Farmington facility. You must call the office and follow the prompts to receive emergency eye care services. Our patients are critical to us, and we know that things can happen after hours that need prompt attention.
Contact Us Today
Reach out to us at Family Vision Clinic in Farmington, MN, so that we can provide you and your family with the individual eyecare services you need when you need them. We want you and your family to have healthy eyes with the best vision. If you have further questions, don't hesitate to speak with our optometrist during your consultation. Contact us today at (651) 463-2020 to schedule an appointment.